Round One of Rogershill Off Road Events summer series saw a good entry of riders line up in near perfect conditions!
Images courtesy of Nick Guppy
Ross Morrison got the hole shot in the championship class, leading the way for the first few corners. By the end of the first lap it was Dom Thomas who was out in front, with Brad King and Dylan Baynton in hot pursuit. After lap two things had changed with Brad King out in front, Dylan in second and Dom third. Dom suffered some bad luck with his chain coming off, leaving 3rd place open for the consistent Brad Rowland. Fourth place finisher Josh Player was flying, literally, into hedges, leaving him looking like he'd been attacked by a small bear!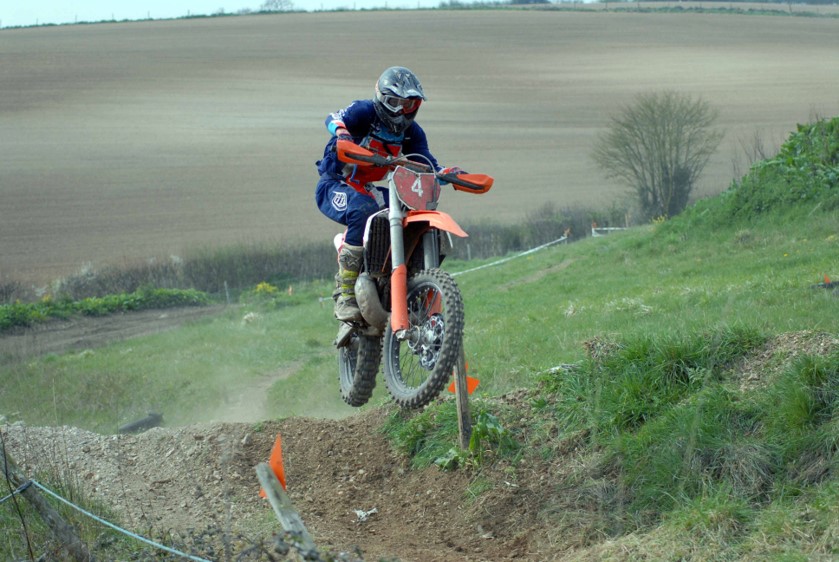 In the Expert Vets group Andy Frost got the hole shot, but Stan Watt wasn't going to let him run away with it, putting his local knowledge to good use keeping on his tail. However once Andy knew where he was going, Stan by his own confession couldn't keep the pace! Number 1 Gary McCoy had to settle for third unchallenged by the rest of the pack, having lost his usual pursuer, Jack Twentyman after Jacks moose broke up. The amazing time keeping ladies Abbie and Claire would like to thank Si Thomas who said thank you, every single lap and made their day!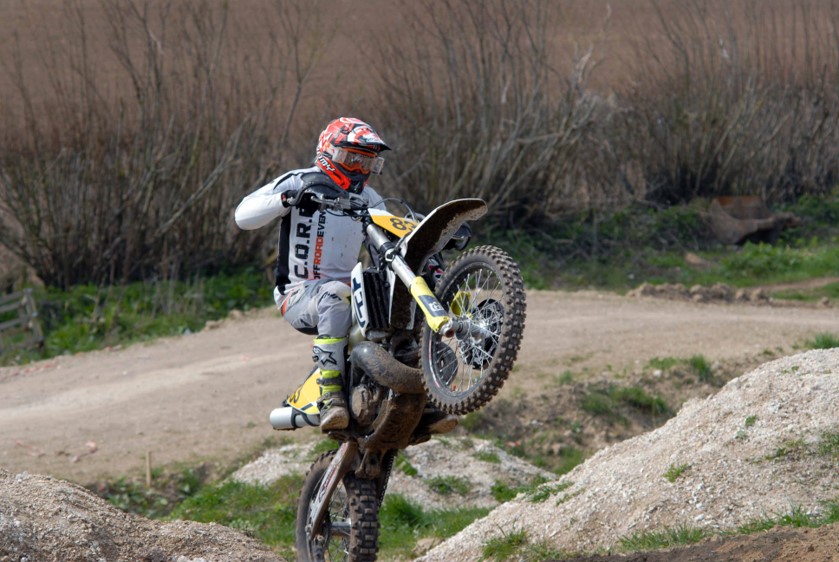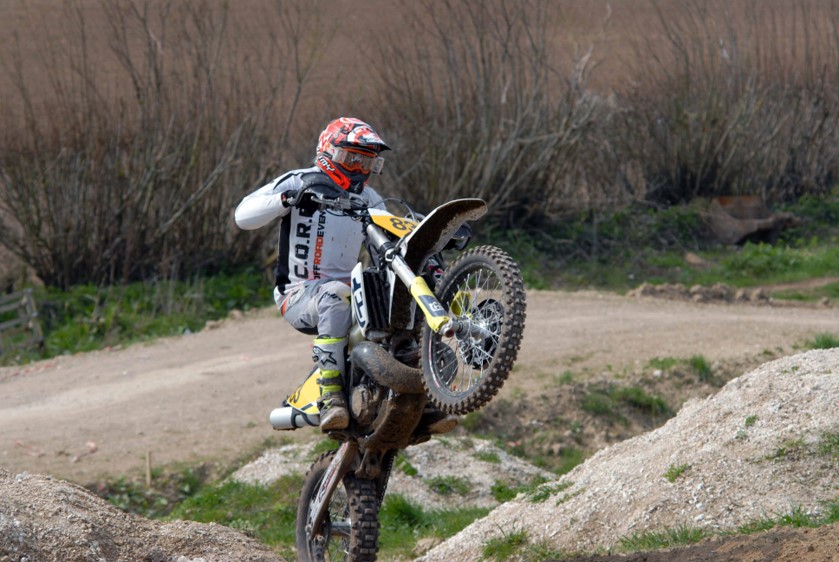 Richard Good won the expert class leading from the start, fending off early competition from James Boyce but boycey's lack of recent bike time meant he faded and by lap four Richard had a convincing lead. Niles Reid taking second from James Boyce too, the top three remained unchanged for the rest of the race.
In the clubman A class, it was a close battle between Jason Connor, Paul Feltham and Zac King. Paul got the holeshot, but at the end of the first lap Jason was out in front pulling an early lead and winning the class. Paul (2nd) and Zac (3rd) swapped positions throughout the 3 hrs, both narrowly missing out on the extra lap.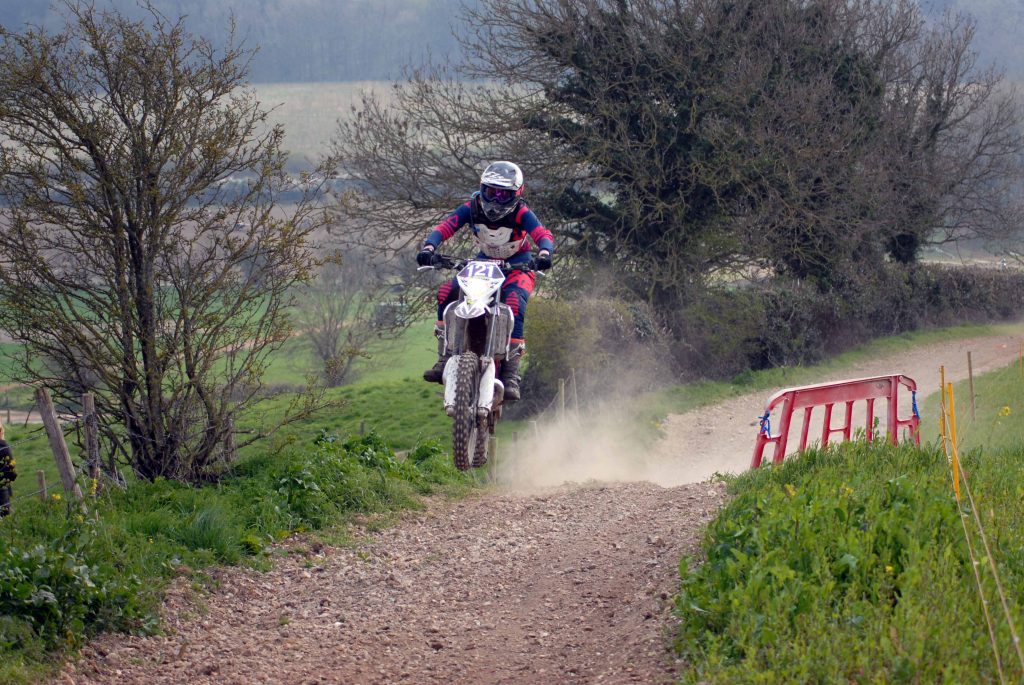 The clubman B holeshot was taken by Em Hall on the bravery beta 200 however by the end of the first lap Adam Morgan was out front, pulling away from the rest of the field by lap four. Paul Jones and Em battled for second, but Paul had the edge pulling a 30 second lead over the last few laps.
In the clubman Vets class Paul O'Connel got the hole shot, showing that beta's really do have the best electric start! He then wheelied the length of the start straight, but his luck ran out later as his race was put to a stop by a broken and dislocated thumb, he sorted the dislocation himself, but the break is going to take a little longer! George Leyland took an early lead but was quickly overtaken by Toni Burrows. However, by lap four Julian Earle was in pole position leaving George second and Toni third. Dave sawtell was in the mix early on but smoked his rear brake.
In the sportsman Class Alex Westlake got the hole shot and led for the entire race pulling a huge 6 minutes on the rest of the class. That left Jacob Haigh and Callum Lewis to battle for second, Callum had the upper hand for most of the race but had to settle for third in the end behind Jacob.
Pete Nash was the winner of the sportsman vets class, Greg Tosdevin grabbed the hole shot but Pete snuck through at the half way point. Chris Dello on the Bravery KTM held off close competition from Jeff White finishing 15 seconds ahead.
Unfortunately as Dorset Enduro's timing system became unavailable for this event and we had to take the gamble of hiring in an alternative system, which was working perfectly on Saturday! but alas packed up after 20 minutes in on Sunday! luckily we had set up a go pro to record everyone passing through and Claire and Abi stepped in to manually record further laps and finish times .After trawling through over a thousand number entries and 3.5 hours of video footage we think the results are now pretty accurate but we can only apologise to anyone who feels we got it wrong, although as a number of people had either the wrong number on their bike or black numbers on dark backgrounds, things were a little tricky! Next round will be back here at Rogershill but we will aim to completely redesign the loop, we had another venue lined up but can't use it until later in the year due to not wanting to trash the bluebells, it's a popular venue, last used by SCEC and we look forward to bringing it back into use.
Well done to all those who took home their winter series trophies, we still have a few left so let us know and we will have them ready at the next one!.
Watching the race on Sunday was a pleasure, lots of close racing and friendly rivalry and thanks to everyone who supported this first round but also a massive thankyou to everyone who helped us put on this event both track laying, marshalling, lapscoring and clearing up afterwards!
Results
Overall
1 Championship 15 Bradley King 13
2 Championship 4 Dylan Baynton 13
3 Championship 5 Bradley Rowland 13
4 Expert Ov 40s 34 Andrew Frost 13
5 Championship 2 Josh Player 13
6 Championship 7 Alan Morrison 13
7 Championship 8 Brett Rowland 12
8 Championship 6 Lewis Gigg 12
9 Championship 10 Jack Nixey 12
10 Expert Ov 40s 62 Stanley Watt 12
11 Championship 30 Dominic Thomas 12
12 Expert 82 Richard Good 12
13 Expert Ov 40s 1 Gary McCoy 12
14 Clubman A 47 Jason Conner 12
15 Championship 122 Ross Morrison 12
16 Expert Ov 40s 173 Geoff Brigden 12
17 Expert Ov 40s 27 Wayne Player 12
18 Expert 21 Niles Reid 12
19 Expert 25 James Boyce 12
20 Expert 17 Jordan Brigden 12
21 Clubman A 53 Paul Feltham 11
22 Expert Ov 40s 116 Simon Thomas 11
23 Clubman A 49 Zac King 11
24 Expert Ov 40s 41 Shane Trotter 11
25 Clubman A 200 Jack Spracklin 11
26 Clubman B 54 Adam Morgan 11
27 Expert Ov 40s 45 Simon Trevaskis 11
28 Clubman B 56 Paul Jones 11
29 Clubman B 121 Emily Hall 11
30 Clubman A 28 James Richards 11
31 Clubman B 125 Simon Ellett 11
32 Clubman Ov 40s 55 Julian Earle 11
33 Clubman Ov 40s 31 George Leyland 11
34 Clubman Ov 40s 48 Toni Burrows 11
35 Clubman B 67 Nathan Smith 11
36 Clubman Ov 40s 93 Robin Smith 11
37 Expert Ov 40s 42 Adam Burt 11
38 Clubman B 59 Francis Sales 10
39 Clubman A 52 Alex Mcgrath 10
40 Clubman Ov 40s 92 Graham Eke 10
41 Sportsman 128 Alex Westlake 10
42 Clubman A 33 Rory Sherlock 10
43 Clubman Ov 40s 98 Wayne Tipton 10
44 Clubman B 58 Rhys Trotter 10
45 Clubman B 65 Ricky Gaston 10
46 Sportsman 175 Jacob Haigh 10
47 Sportsman 156 Callum Lewis 10
48 Clubman Ov 40s 64 Justin Bough 10
49 Clubman Ov 40s 83 Simon Discombe 10
50 Clubman B 57 Nick Gifford 10
51 Clubman Ov 40s 90 Stephen Mulliner 10
52 Sportsman 126 adam guiton 10
53 Clubman B 99 Terence Marsh 10
54 Clubman Ov 40s 91 Mark Elliott 10
55 Clubman B 68 Stuart August 9
56 Sportsman Ov 40s 142 Chris Dello 9
57 Sportsman 127 Adam Brigden 9
58 Clubman Ov 40s 85 Stuart Bowers 9
59 Clubman A 76 Daryl Biles 9
60 Clubman B 66 Liam Turnbull 9
61 Clubman Ov 40s 71 David Wright 9
62 Sportsman Ov 40s 146 Jeff White 9
63 Clubman Ov 40s 77 Daniel Bowden 9
64 Clubman Ov 40s 89 Shaun Baker 9
65 Clubman B 72 Peter Colmer 9
66 Sportsman Ov 40s 140 John Rowley 9
67 Sportsman 120 Joseph Williams 9
68 Sportsman 171 Rory Tucker 9
69 Sportsman Ov 40s 36 Greg Tosdevin 9
70 Clubman Ov 40s 88 lee burrough 8
71 Sportsman Ov 40s 22 Garry Mettam 8
72 Sportsman 130 Dailee Thompson 8
73 Sportsman Ov 40s 141 Peter Coles 8
74 Sportsman Ov 40s 144 Peter Nash 8
75 Clubman B 63 Harrison Dobson 7
76 Sportsman Ov 40s 159 Tim O'Dowd 6
77 Sportsman 129 Kane Watts 5
78 Clubman Ov 40s 155 Peter King 1
By Class
Class Number Firstname Lastname Laps Finish time
Championship 15 Bradley King 13 1.5
Championship 4 Dylan Baynton 13 2.22
Championship 5 Bradley Rowland 13 10.25
Championship 2 Josh Player 13 11.51
Championship 7 Alan Morrison 13 12.41
Championship 8 Brett Rowland 12 1.45
Championship 6 Lewis Gigg 12 3.14
Championship 10 Jack Nixey 12 3.55
Championship 30 Dominic Thomas 12 5.22
Championship 122 Ross Morrison 12 10.23
Clubman A 47 Jason Conner 12 10.03
Clubman A 53 Paul Feltham 11 0.22
Clubman A 49 Zac King 11 1.33
Clubman A 200 Jack Spracklin 11 3.32
Clubman A 28 James Richards 11 8.35
Clubman A 52 Alex Mcgrath 10 1.22
Clubman A 33 Rory Sherlock 10 1.54
Clubman A 76 Daryl Biles 9 6.55
Clubman A 37 Andy Claxton
Clubman A 51 Daniel Guy
Clubman B 54 Adam Morgan 11 3.41
Clubman B 56 Paul Jones 11 6.55
Clubman B 121 Emily Hall 11 7.36
Clubman B 125 Simon Ellett 11 9.32
Clubman B 67 Nathan Smith 11 11.48
Clubman B 59 Francis Sales 10 0.38
Clubman B 58 Rhys Trotter 10 5.39
Clubman B 65 Ricky Gaston 10 6.02
Clubman B 57 Nick Gifford 10 9.3
Clubman B 99 Terence Marsh 10 14.44
Clubman B 68 Stuart August 9 1.07
Clubman B 66 Liam Turnbull 9 7.33
Clubman B 72 Peter Colmer 9 12.52
Clubman B 63 Harrison Dobson 7 7.06
Clubman B 23 John Trevaskis
Clubman B 50 Marcus Rickard
Clubman B 73 Paul Gentle
Clubman Ov 40s 55 Julian Earle 11 10.09
Clubman Ov 40s 31 George Leyland 11 10.35
Clubman Ov 40s 48 Toni Burrows 11 10.54
Clubman Ov 40s 93 Robin Smith 11 12.14
Clubman Ov 40s 92 Graham Eke 10 1.28
Clubman Ov 40s 98 Wayne Tipton 10 1.59
Clubman Ov 40s 64 Justin Bough 10 8.56
Clubman Ov 40s 83 Simon Discombe 10 9.06
Clubman Ov 40s 90 Stephen Mulliner 10 12.3
Clubman Ov 40s 91 Mark Elliott 10 15.15
Clubman Ov 40s 85 Stuart Bowers 9 6.33
Clubman Ov 40s 71 David Wright 9 7.42
Clubman Ov 40s 77 Daniel Bowden 9 11.18
Clubman Ov 40s 89 Shaun Baker 9 12.51
Clubman Ov 40s 88 lee burrough 8 3.46
Clubman Ov 40s 155 Peter King 1
Clubman Ov 40s 84 David Sawtell DNF
Clubman Ov 40s 87 Paul O'Connel DNF
Clubman Ov 40s 86 Tim Thurgood
Expert 82 Richard Good 12 6.45
Expert 21 Niles Reid 12 14.48
Expert 25 James Boyce 12 15.51
Expert 17 Jordan Brigden 12 15.59
Expert 16 Paul Taylor
Expert 18 Barney Thurgood
Expert Ov 40s 34 Andrew Frost 13 11.09
Expert Ov 40s 62 Stanley Watt 12 4.2
Expert Ov 40s 1 Gary McCoy 12 8.5
Expert Ov 40s 173 Geoff Brigden 12 13.3
Expert Ov 40s 27 Wayne Player 12 13.36
Expert Ov 40s 42 Adam Burt 12 16.32
Expert Ov 40s 116 Simon Thomas 11 0.55
Expert Ov 40s 41 Shane Trotter 11 2.29
Expert Ov 40s 45 Simon Trevaskis 11 6.49
Expert Ov 40s 9 Jack Twentyman DNF
Expert Ov 40s 44 Michael Brooks
Sportsman 128 Alex Westlake 10 1.43
Sportsman 175 Jacob Haigh 10 7.49
Sportsman 156 Callum Lewis 10 7.52
Sportsman 126 adam guiton 10 13.22
Sportsman 127 Adam Brigden 9 1.43
Sportsman 120 Joseph Williams 9 16.05
Sportsman 171 Rory Tucker 9 17.03
Sportsman 130 Dailee Thompson 8 9.27
Sportsman 129 Kane Watts 5 8.08
Sportsman Ov 40s 144 Peter Nash 9 1.18
Sportsman Ov 40s 142 Chris Dello 9 10.47
Sportsman Ov 40s 146 Jeff White 9 11.05
Sportsman Ov 40s 140 John Rowley 9 14.47
Sportsman Ov 40s 36 Greg Tosdevin 9 after 2.5hr
Sportsman Ov 40s 22 Garry Mettam 8 9.15
Sportsman Ov 40s 141 Peter Coles 8 10.47
Sportsman Ov 40s 159 Tim O'Dowd 6 14.23