he battle between Ricky Wiggins and Brad King made for an exciting start to this year's winter warmer series! Ricky was struggling to keep Brad at bay and in the end his bike started acting up and he was forced to retire. Brad kept it smooth, putting in the fastest lap over the rest of the finishers by over 45 seconds and was the only competitor to finish on 12laps. Second place was Owen Richards who was consistently on pace with every lap time within a minute of each other. Third place was Brett Rowland who got a cracking hole shot but the little 125 needed a few more pit stops!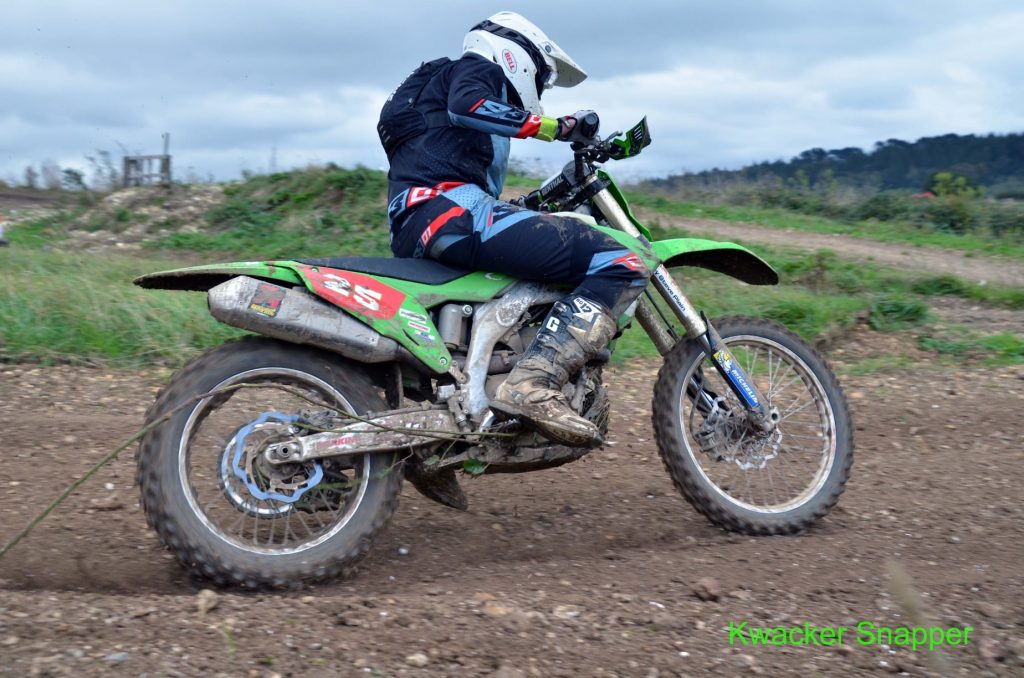 Max Agar led the expert class for the first few laps until John Stanley got a pass in and led the group for the rest of the race. Tony Cook found a good rhythm after a bad start and finished second. Max slipped to 3rd but still got the fastest lap of the group.
Mark Cornick got the hole shot in the expert vet's class but had to withdraw with brake issues. Stan Watt was the winner in the end setting the fastest lap of the group by nearly 30 seconds, despite recent injury. Second was Gary McCoy who was the last vet to sneak in on 11 laps. Dan Groom managed to fight back from a bad start keeping his lap times consistent to finish 3rd in the group.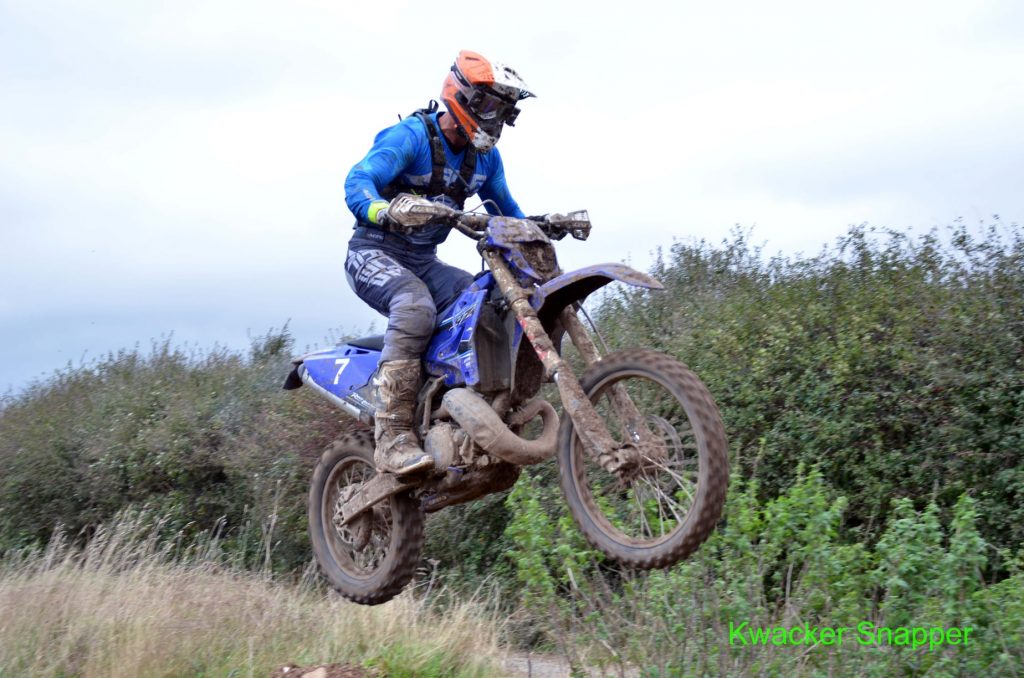 In the clubman A class, Camlann Macdonald got off to a great start and had a great race ending up 10th overall. Jamie Muscat came in second with the young Freddie Davis in third all on 10 laps.
In the clubman B class, it was all going on with lots of swapping places throughout the group. Joe Beaumont took an early lead with some cracking lap times but dropped away leaving George Couper to take the eventual win from Charles Talbot in in second with Harvey Wilkinson getting third despite some crashes. Joe ended up 4th, with Chris Standen in 5th and the young Finly Abbot getting 6th in his first ever hare and hounds, amazing result!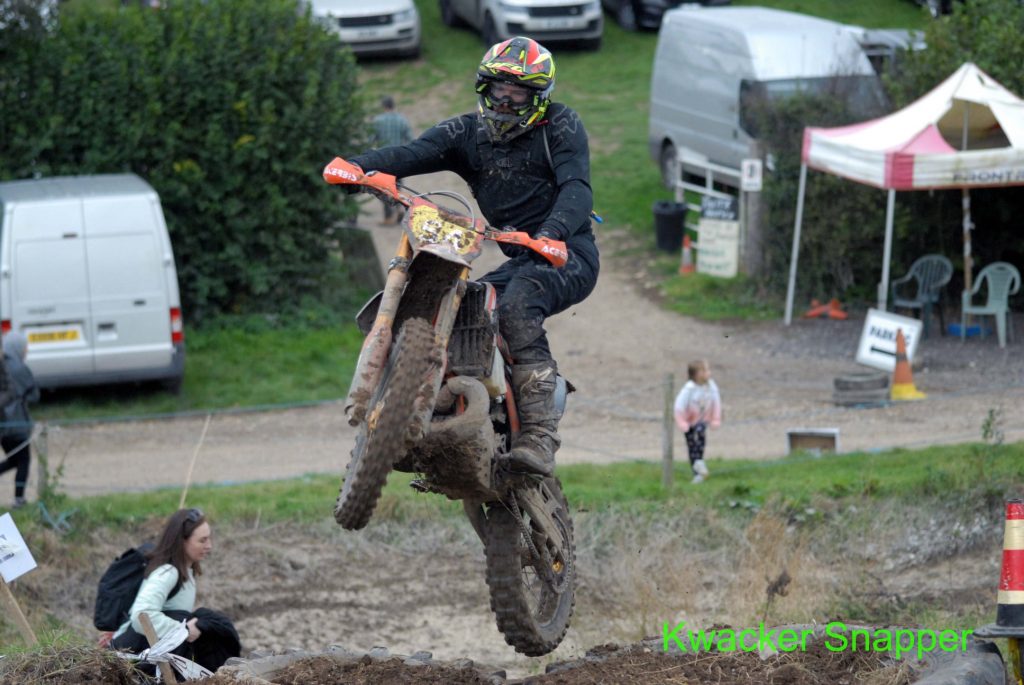 In the clubman mature gentleman's class, Justin Cadman took off like a scalded cat with Luke Dewey and Wayne Player close behind. Wayne kept the pace and managed to hold on for second. Si Thomas eased his way up to third, nice one grandad!
In the over 40s sportsman Glen "Drinky" Drinkwater was on it from the start, leaving James Couper to take second, Stu August and Dave Miracca battled it out for the remaining place on the podium and Stu just pipped Dave in the end securing his first podium! Shout out to Jamie Gordon who finished his first hare and hounds, well done mate!
In the sportsman class there were a lot of new riders giving it a go for the first time, but it was Tommy Reid who was the man on the day with his best lap being nearly 1 and a half minutes quicker than the rest of the group. Finlay Taylor was in second, finishing as the fastest sportsman under 30 he has secured himself a nice watch in Memory of James Wright. Clinton Carter finished in third, also managing a very respectable 9 laps. Further back there were lots of battles going on and all bar 4 survived the 3 hours, well done to all of you!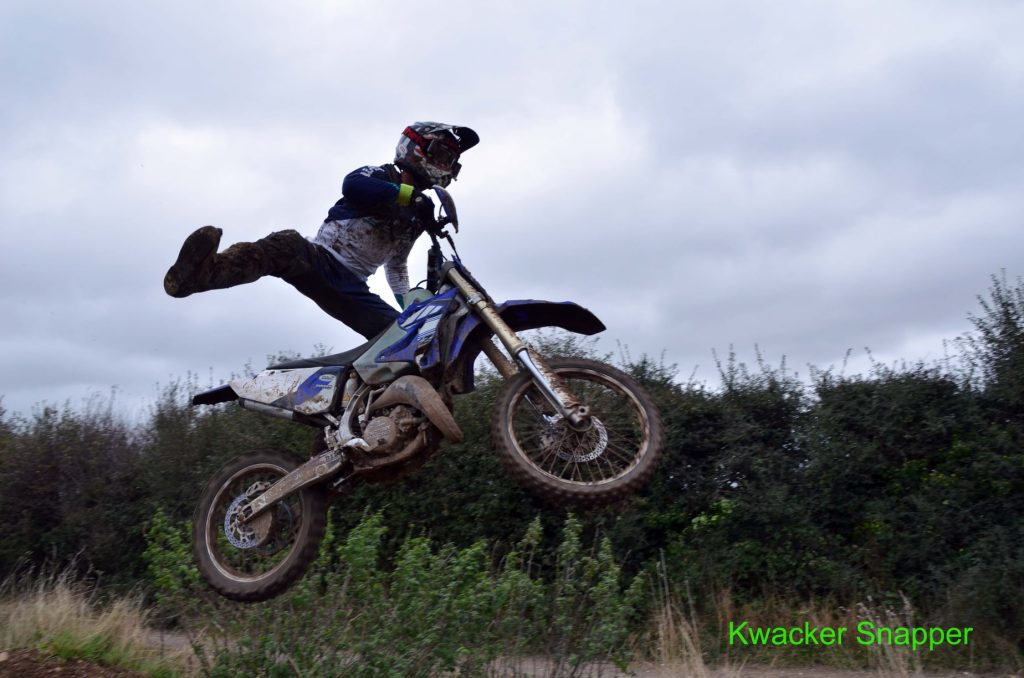 The next round will be on the 21st of November at Rogershill again and the track will be changed as usual to keep it interesting. We had hoped to be at bovington but army exercises were shifted about and we couldn't get access. However, it's looking good for a trip back to the sand bowl next November for the 10th anniversary of the James Wright memorial!
Thank you to all who attended this event, we are so pleased another year of winter series has gotten off to a great start. Also, a massive thank you to all the amazing people who come and help! Pete Coles, who would also like to remind those with dodgy wheel bearings to get them fixed! Shane Babey and Craig Redmond for the timing. The track preppers, Dave, Brad, Steff, Stumpy, Jamie and Lauren. Louise King for stepping in and handing out transponders. Our awesome travelling marshals, Justin, Jason, William, Paul, Chris, Si, Paul C and the rest of the lads who kept things flowing.
Shout out to our amazing sponsors, Mito UK based in Poole (Progrip) and VSMX who supply the numbers and gives all proceeds to the air ambulance.
If you are looking for photos, please contact any of the following talented people, Nicholas Guppy, Andy Coombes or Dark Fairy Photography.
C:\Documents and Settings\Administrator\My Documents\WINTER21_01.htm
Position
NAME
CLASS
LAPS
AWARD
NUMBER
FASTEST
COMMENT
1
BRAD KING
01 Champio
12
0 Premier
25
00:13:58
2
OWEN RICHARDS
01 Champio
11
1 Gold
4
00:14:39
3
BRETT ROWLAND
01 Champio
11
1 Gold
65
00:14:25
4
DAN GUY
01 Champio
11
2 Silver
45
00:14:37
5
MORGAN DEAKIN
01 Champio
11
2 Silver
3
00:14:43
6
JOSH PLAYER
01 Champio
9
3 Bronze
2
00:17:36
1
JOHN STANLEY
02 Expert
11
1 Gold
14
00:16:43
2
TONY COOK
02 Expert
11
1 Gold
17
00:17:33
3
MAX AGAR
02 Expert
10
1 Gold
153
00:16:39
4
STANLEY EARLE
02 Expert
10
1 Gold
55
00:17:07
5
EDWARD DYNE
02 Expert
10
1 Gold
120
00:17:06
6
JASON WRIGHT
02 Expert
10
1 Gold
20
00:17:37
7
LEWIS BARFOOT
02 Expert
10
1 Gold
8
00:17:30
8
GRANT LAMING
02 Expert
10
1 Gold
39
00:18:13
9
JAMES BOYCE
02 Expert
10
1 Gold
24
00:17:29
10
BORJA MARQUES
02 Expert
10
1 Gold
16
00:17:26
11
BEN CHAMLEY
02 Expert
10
1 Gold
191
00:17:54
12
JOSHUA TERRY
02 Expert
9
2 Silver
70
00:17:03
1
STAN WATT
03 O40 Exp
11
1 Gold
7
00:17:08
2
GARY MCCOY
03 O40 Exp
11
1 Gold
27
00:17:36
3
DAN GROOM
03 O40 Exp
10
1 Gold
32
00:17:55
4
SHANE TROTTER
03 O40 Exp
10
1 Gold
98
00:17:39
5
DANNY HALL
03 O40 Exp
10
1 Gold
232
00:17:45
6
STEVE HARDING
03 O40 Exp
10
1 Gold
62
00:17:52
7
MICHAEL EL-AYOUBY
03 O40 Exp
10
1 Gold
76
00:17:58
8
DAVE COLES
03 O40 Exp
10
2 Silver
63
00:18:17
9
KARL Langford
03 O40 Exp
10
2 Silver
60
00:18:31
10
TONI BURROWS
03 O40 Exp
10
2 Silver
48
00:18:54
11
MARK ELLIOTT
03 O40 Exp
9
2 Silver
107
00:18:35
12
STEVE DAGGER
03 O40 Exp
9
2 Silver
99
00:19:20
1
CAMLANN MACDONALD
04 Club A
10
1 Gold
246
00:17:17
2
JAMIE MUSCAT
04 Club A
10
1 Gold
112
00:17:36
3
FREDDIE DAVIS
04 Club A
10
1 Gold
56
00:17:37
4
RHYS TROTTER
04 Club A
10
1 Gold
31
00:17:38
5
STUART WILLIAMS
04 Club A
10
1 Gold
21
00:18:11
6
HARRY BILLET
04 Club A
10
1 Gold
241
00:18:39
7
CALLUM PICKING-REYNALDS
04 Club A
10
1 Gold
199
00:18:26
8
OLLIE GRAY
04 Club A
10
1 Gold
124
00:17:56
9
GEORGE OLOF
04 Club A
10
1 Gold
46
00:17:56
10
ALEX WESTLAKE
04 Club A
10
1 Gold
91
00:17:51
11
ED EAMES
04 Club A
10
1 Gold
37
00:18:28
12
MARCUS FELTHAM
04 Club A
10
1 Gold
168
00:17:57
13
ADAM HUGHES
04 Club A
10
1 Gold
78
00:18:45
14
ROSS MORRISON
04 Club A
10
1 Gold
54
00:18:51
15
WILLIAM WILSON
04 Club A
10
1 Gold
106
00:18:48
16
PETER COLMER
04 Club A
10
1 Gold
59
00:19:09
17
ALEX MCGRATH
04 Club A
9
2 Silver
49
00:19:25
18
PAUL JONES
04 Club A
9
2 Silver
34
00:18:59
19
CHRIS ROWAN
04 Club A
9
2 Silver
41
00:19:26
20
RORY SHERLOCK
04 Club A
9
2 Silver
64
00:19:14
21
ADRIAN CLIGG
04 Club A
9
2 Silver
44
00:19:10
22
ROBERT MORRIS
04 Club A
9
2 Silver
38
00:19:50
23
JON DOOR
04 Club A
9
2 Silver
42
00:19:40
24
HEDLEY COLE
04 Club A
8
2 Silver
40
00:21:58
1
GEORGE COUPER
05 Club B
10
1 Gold
94
00:18:40
2
CHARLES TALBOT
05 Club B
10
1 Gold
114
00:18:37
3
HARVEY WILKINSON
05 Club B
10
1 Gold
81
00:18:26
4
JOE BEAUMONT
05 Club B
10
1 Gold
35
00:17:46
5
CHRISTOPHER STANDEN
05 Club B
10
1 Gold
92
00:19:16
6
FINLY ABBOTT
05 Club B
9
2 Silver
128
00:18:48
7
SAM WARREN
05 Club B
9
1 Gold
6
00:19:33
8
SHAUN ASH
05 Club B
9
1 Gold
85
00:19:31
9
CAMERON COULTER
05 Club B
9
1 Gold
82
00:19:42
10
EDWARD SARCHET
05 Club B
9
1 Gold
109
00:20:00
11
TED HARRISON
05 Club B
9
2 Silver
123
00:19:59
12
MATT HOLLAND
05 Club B
9
2 Silver
58
00:19:40
13
HUW WILLIAMS
05 Club B
9
2 Silver
122
00:20:03
14
JACK ELLIS
05 Club B
9
2 Silver
79
00:20:35
15
DOMINIC CHENNERY
05 Club B
9
2 Silver
180
00:19:33
16
TOM HOOPER
05 Club B
9
2 Silver
182
00:20:17
17
NICHOLAS MARSHALL-TURNER
05 Club B
9
2 Silver
87
00:20:32
18
PATRICK BISHOP
05 Club B
9
2 Silver
127
00:21:16
19
STUART STEVENS
05 Club B
9
2 Silver
89
00:21:14
20
JOHN HILL
05 Club B
8
2 Silver
74
00:19:46
21
TYRONE SPENCER
05 Club B
8
2 Silver
83
00:21:12
22
BRADLEY ELSON
05 Club B
8
2 Silver
113
00:19:48
23
IAN YEO
05 Club B
8
2 Silver
77
00:20:36
24
MARCUS HAMLYN
05 Club B
8
2 Silver
95
00:22:45
25
JOE CARPENTER
05 Club B
7
2 Silver
13
00:21:00
26
JED WALTHER
05 Club B
7
2 Silver
222
00:21:18
27
SAM HARRISON
05 Club B
7
2 Silver
67
00:20:49
28
OLIVER SMITH
05 Club B
6
3 Bronze
97
00:28:07
1
JUSTIN CADMAN
06 O40 Clu
10
1 Gold
30
00:18:30
2
WAYNE PLAYER
06 O40 Clu
10
1 Gold
57
00:18:49
3
SIMON THOMAS
06 O40 Clu
10
2 Silver
19
00:19:00
4
TITUS BLACKWELL
06 O40 Clu
9
1 Gold
33
00:18:52
5
ALAIN MORRIS
06 O40 Clu
9
2 Silver
163
00:18:56
6
DARREN CARTER
06 O40 Clu
9
2 Silver
61
00:19:28
7
LUKE DEWEY
06 O40 Clu
9
2 Silver
84
00:18:32
8
STUART BOWERS
06 O40 Clu
9
2 Silver
96
00:20:14
9
LEE BOULDEN
06 O40 Clu
9
2 Silver
149
00:20:17
10
MARTIN WOOD
06 O40 Clu
9
2 Silver
117
00:20:02
11
MARK ANTHONY LEE
06 O40 Clu
9
2 Silver
158
00:20:02
12
PETE NIXEY
06 O40 Clu
9
2 Silver
80
00:20:11
13
LEE BURROUGH
06 O40 Clu
9
2 Silver
188
00:19:56
14
STEPHEN TAYLOR
06 O40 Clu
9
2 Silver
104
00:20:05
15
GERRY OWENS
06 O40 Clu
9
2 Silver
88
00:19:53
16
ROB SMITH
06 O40 Clu
9
2 Silver
100
00:19:40
17
PAUL OCONNEL
06 O40 Clu
9
2 Silver
227
00:20:15
18
JAMES GREEN
06 O40 Clu
9
2 Silver
101
00:20:22
19
GRAHAM EKE
06 O40 Clu
9
2 Silver
147
00:20:08
20
ROBERT ANDERSON
06 O40 Clu
9
2 Silver
197
00:20:15
21
MARK CHADBOURNE
06 O40 Clu
9
2 Silver
86
00:19:34
22
ANTONY GUPPY
06 O40 Clu
9
2 Silver
110
00:20:47
23
STEPHEN SCOTT
06 O40 Clu
9
2 Silver
103
00:20:31
24
DANIEL BOWDEN
06 O40 Clu
8
2 Silver
177
00:20:49
25
OLLY ELWORTHY 298
06 O40 Clu
8
2 Silver
248
00:21:25
26
DAVID WRIGHT
06 O40 Clu
7
3 Bronze
71
00:22:33
1
GLENN DRINKWATER
07 O40 Spo
9
1 Gold
172
00:20:38
2
JAMES COUPER
07 O40 Spo
9
1 Gold
93
00:21:21
3
STUART AUGUST
07 O40 Spo
8
1 Gold
69
00:21:10
4
DAVID MIRACCA
07 O40 Spo
8
1 Gold
173
00:21:22
5
MARTYN HOYLE
07 O40 Spo
8
1 Gold
66
00:21:40
6
STEVE PLAMER
07 O40 Spo
8
1 Gold
204
00:21:37
7
RICHARD BLAND
07 O40 Spo
8
1 Gold
118
00:23:00
8
CHRIS DELLO
07 O40 Spo
7
2 Silver
171
00:22:41
9
TIM ODOWD
07 O40 Spo
7
2 Silver
159
00:23:36
10
NICK WINDSOR
07 O40 Spo
7
2 Silver
166
00:22:34
11
MARK HARRISON
07 O40 Spo
6
2 Silver
179
00:23:01
12
BILL CALLISTER
07 O40 Spo
6
2 Silver
194
00:22:45
13
TONY WALKER
07 O40 Spo
6
3 Bronze
198
00:27:50
14
JAMIE GORDON
07 O40 Spo
5
3 Bronze
160
00:30:54
1
TOMMY REED
08 Sportsm
9
1 Gold
181
00:19:03
2
FINLAY TAYLOR
08 Sportsm
9
1 Gold
157
00:20:30
3
CLINTON CARTER
08 Sportsm
9
1 Gold
136
00:20:21
4
EDWARD LANGSTON
08 Sportsm
9
2 Silver
105
00:20:51
5
JAMES TULLEY
08 Sportsm
8
2 Silver
145
00:21:07
6
NATHAN BAXTER
08 Sportsm
8
2 Silver
137
00:20:27
7
MACIEJ CAPUTA
08 Sportsm
8
2 Silver
144
00:21:30
8
KIERAN BAXTER
08 Sportsm
8
2 Silver
221
00:21:56
9
TRISTAN SMITH
08 Sportsm
8
2 Silver
164
00:22:08
10
MICHAEL HUNT
08 Sportsm
8
2 Silver
186
00:21:04
11
NICHOLAS DAWE
08 Sportsm
8
2 Silver
150
00:21:42
12
NIALL MCCROW
08 Sportsm
8
2 Silver
154
00:21:50
13
DOMINIC WARD
08 Sportsm
8
2 Silver
115
00:21:39
14
CHARLIE GREEN
08 Sportsm
8
2 Silver
156
00:21:54
15
JOEY REDING
08 Sportsm
8
2 Silver
152
00:21:44
16
JACK LAMBLE
08 Sportsm
8
2 Silver
193
00:23:10
17
MARC RAVEN
08 Sportsm
8
2 Silver
151
00:20:58
18
MICHAEL DONALDSON
08 Sportsm
7
2 Silver
52
00:21:06
19
ADAM SUGRE
08 Sportsm
7
2 Silver
139
00:24:46
20
KARL ROCHE
08 Sportsm
7
2 Silver
90
00:23:00
21
STU FRANCIS
08 Sportsm
7
2 Silver
148
00:21:57
22
MATTHEW SOUTHWICK
08 Sportsm
7
2 Silver
68
00:23:08
23
ANTHONY PENWRIGHT
08 Sportsm
7
2 Silver
131
00:24:42
24
ANDREW WARD
08 Sportsm
7
2 Silver
116
00:24:14
25
LAURA CIOTTE
08 Sportsm
7
3 Bronze
230
00:26:59
26
RYAN DUNNING
08 Sportsm
6
3 Bronze
146
00:20:58
27
DOMINIC LEE
08 Sportsm
6
3 Bronze
140
00:25:51
28
OWEN TIROKE
08 Sportsm
6
3 Bronze
143
00:24:48
29
FREDDIE CARTER
08 Sportsm
6
3 Bronze
36
00:22:40
STEPHEN MULLINER
03 O40 Exp
8
9 -DNF-
72
00:19:16
-DNF-
RICHARD PENNELL
07 O40 Spo
6
9 -DNF-
174
00:22:09
-DNF-
JOE ELWORTHY
05 Club B
6
9 -DNF-
229
00:20:41
-DNF-
RICKY WIGGINS
01 Champio
6
9 -DNF-
29
00:13:56
-DNF-
JULIAN EARLE
03 O40 Exp
5
9 -DNF-
155
00:19:05
-DNF-
STEVEN VENABLES
07 O40 Spo
5
9 -DNF-
176
00:22:10
-DNF-
MAX WILMOT
07 O40 Spo
5
9 -DNF-
75
00:23:23
-DNF-
JASON CONNER
02 Expert
5
9 -DNF-
47
00:17:04
-DNF-
MARK OSULLIVAN
08 Sportsm
4
9 -DNF-
142
00:25:31
-DNF-
JAMES RIBBANS
04 Club A
4
9 -DNF-
108
00:20:15
-DNF-
ARRON GREENAWAY
08 Sportsm
4
9 -DNF-
133
00:25:27
-DNF-
ROBERT WILSON
05 Club B
4
9 -DNF-
244
00:22:34
-DNF-
DANIEL HOUGHTON
08 Sportsm
3
9 -DNF-
175
00:21:02
-DNF-
BRAD PERRETT
02 Expert
3
9 -DNF-
51
00:18:11
-DNF-
EUAN COULTER
02 Expert
3
9 -DNF-
11
00:18:25
-DNF-
MARK CORNICK
03 O40 Exp
3
9 -DNF-
22
00:17:43
-DNF-
ADAM LAMER
08 Sportsm
2
9 -DNF-
138
00:22:43
-DNF-
MICHAEL BROOKS
03 O40 Exp
2
9 -DNF-
73
00:18:28
-DNF-
DANIEL WEATHERALL
08 Sportsm
2
9 -DNF-
134
00:41:08
-DNF-
CURTIS WRIGHT
05 Club B
1
9 -DNF-
50
00:22:22
-DNF-