Sunday 21st bought cracking weather and a full entry for Round 2 of the Winter Warmer Series at Rogershill for a full 3 hours of action.
First out of the blocks the championship class set off at a pace with Brad King taking the holeshot and checking out, never to be caught. Behind him Brad Rowland and Josh Player rounded out the top three although Dan Guy was in the mix until an impressive crash snapped his bars and ended his day!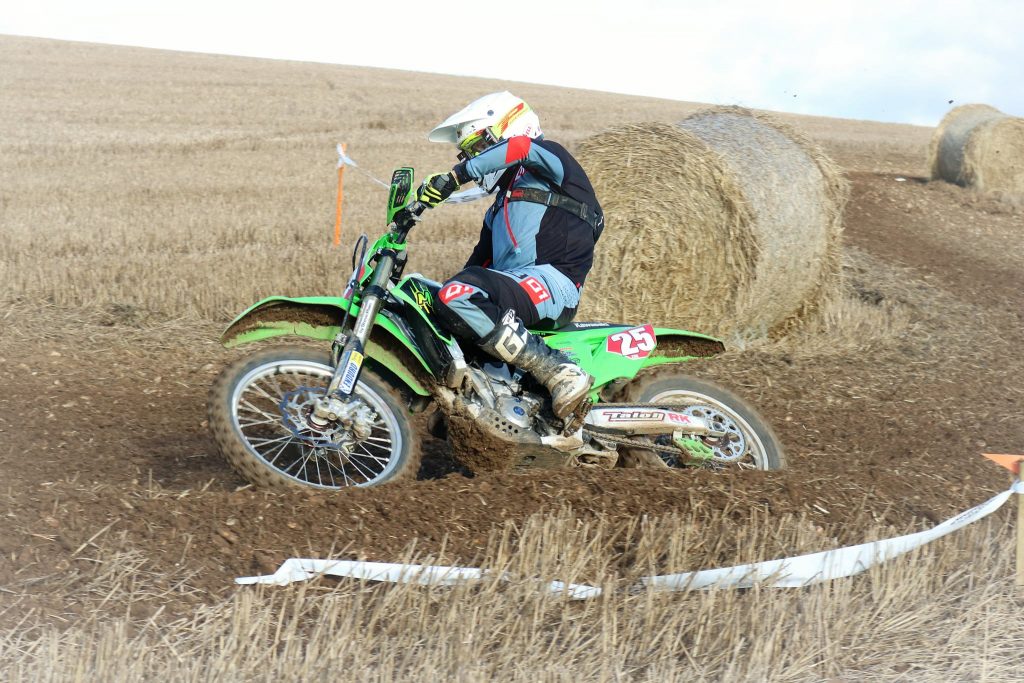 In the Experts there was a much closer battle between Sam Richards, Paddy Twentyman and Cynan Jones. Sam retired from the action mid-way through on and Cynan put the hammer down and squeezed in an extra lap to take the win from Paddy whilst John Stanley held off Gary McCoy for third.
In the Expert vets it was a Yamaha whitewash, Stan Watt kickstarted his Yz for the holeshot and checked out, whilst Dan Groom, Michael El-ayouby and Shane Trotter all on yams battled it out finishing in that order.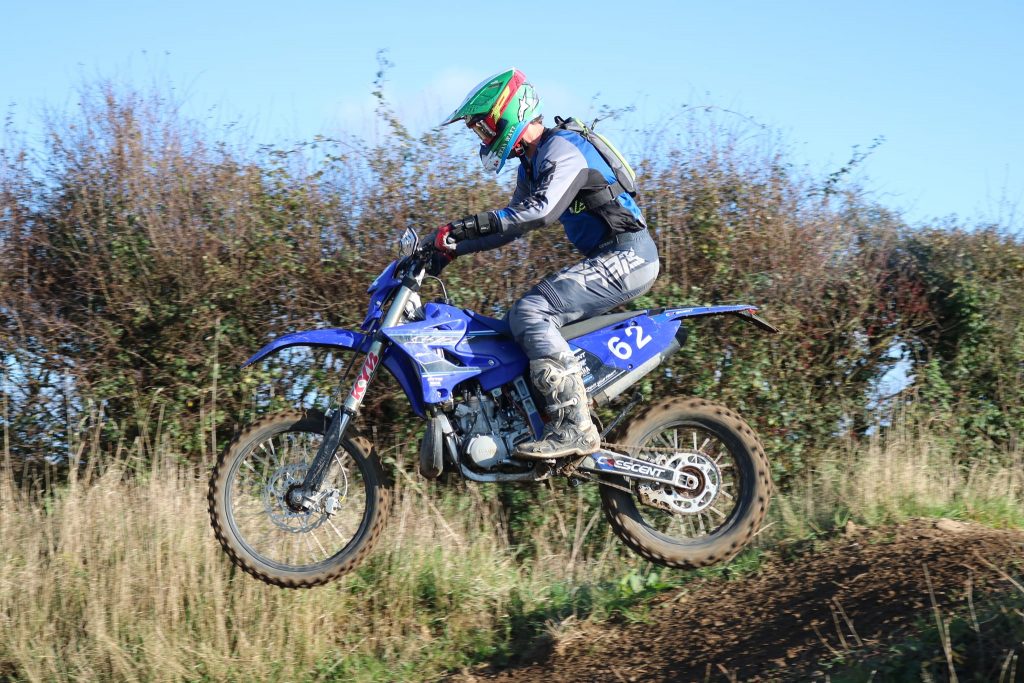 In Clubman A, Pete (crashalot) Colmer won the Holeshot award, swiftly followed by the biggest highside award but did finish, leaving Cameron Games, Callum Pickering and Ross Morrison to battle it out initially. Marcus Feltham was on the move throughout and reeled them in only to get caught and passed by a Rhys Trotter, who having totally ballsed up his start then rode like a man possessed to take the class win demoting Marcus and Cameron to 2nd and 3rd respectively!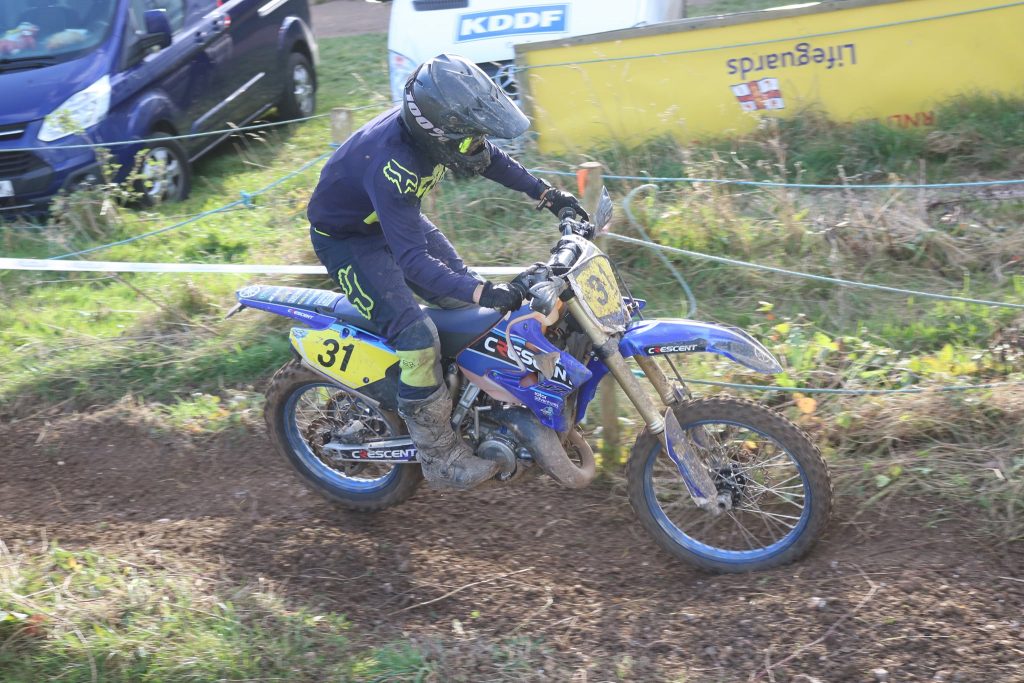 Meanwhile in Clubman B, Joe Beamont was the man to catch but three laps in Harvey Wilkinson did just that! Joe held on to second and the ever-consistent George Couper closed in on them towards the finish for a solid third in class.
Next up the Over 40 Clubman Hit the dirt with the very experienced Si Thomas heading the field for a number of laps until Justin Cadnam and Luke Dewey closed in with Luke eventually relegating Justin and Si to 2nd and 3rd. Spare a thought though for Mark Chadbourne who was pushing incredibly hard for a good top 5 finish only to run out of fuel on the last lap, don't worry Mark you were definitely not alone!
With the last rounds winner Glenn Drinkwater a non starter, the Over 40 sportsman class was wide open from the start and it was Glenn Woodland who stepped up to the plate and pulled away from the rest of the field leaving Stu August and Martyn Hoyle to battle it out with Martyn eventually taking 2nd squeezing Stu down into a still very respectable 3rd.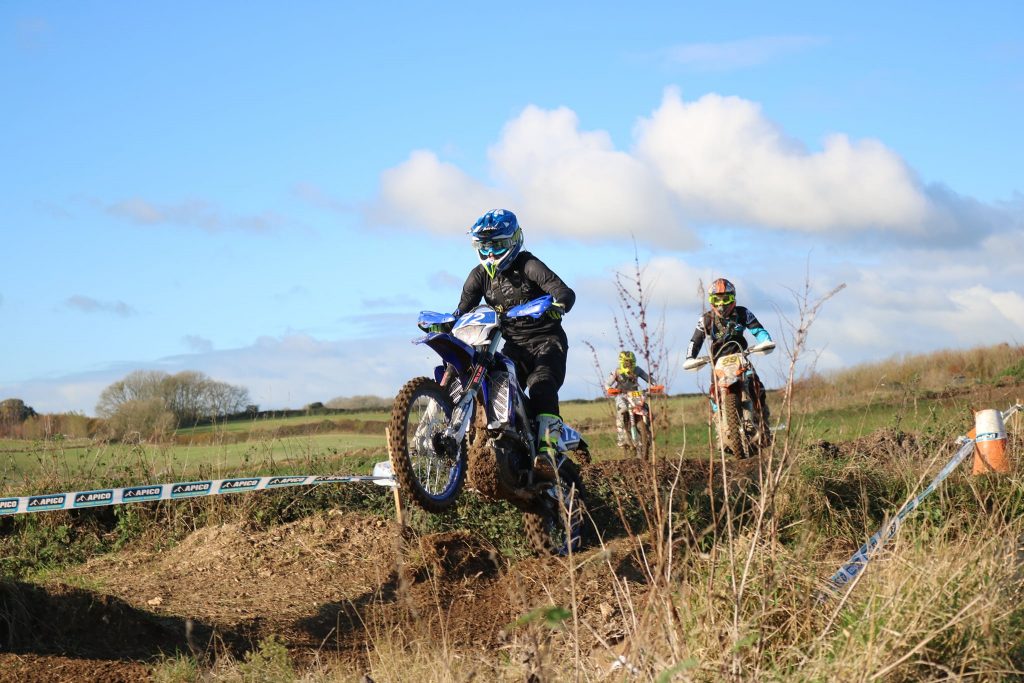 Finally, the biggest class of the day, the Sportsman took off. Young Finlay Abbot was certainly on a mission but unfortunately a broken bolt quickly followed by a puncture ruined his day and it was Finlay Taylor who took over the lead and once there he never looked back, eventually managing one more lap than anyone else in the class! Nathan Baxter held on to 2nd at the finish whilst Alfred Busby, James Tulley and Dom Ward battled hard for 3rd 4th and 5th.
The optional hard/easy route provided much entertainment throughout and certainly took a few scalps as the race progressed. The Lee Wheatley trophy was won by Dan Groom and the stage is nicely set for another very competitive Round Three at Hethelton Forest in a few weeks time.
Finally, a note to all those who don't usually read the final instructions – Correct numbers/Class backgrounds must be fitted to your bike BEFORE the event at Hethelton. Please also check your wheel bearings, brakes, tyres etc are all serviceable before the event and last but not certainly least, please don't be a Helmet, make sure there's a valid ACU gold stamp on your helmet before you arrive!
2022 RORE memberships are available on our website www.rogershillraceway.com and entitles you to discounts on all of our enduro practice days as well as an ACU membership code.
         Once again, a massive thankyou to everyone who helped us put on this event, track layers, the ever helpful marshal's both old and new, the medics, Craig and Shane for the timing and an extra special thank you to the always very patient and ever helpful Louise King for helping out on her birthday! We look forward to seeing you all at the next round.
C:\Documents and Settings\Administrator\My Documents\rore2_21.htm.htm
Position
NAME
CLASS
LAPS
1
BRAD KING
01 Champio
13
2
BRADLEY ROWLAND
01 Champio
13
3
JOSH PLAYER
01 Champio
12
4
OWEN RICHARDS
01 Champio
12
5
MORGAN DEAKIN
01 Champio
12
6
JAY BAXENDALE
01 Champio
11
1
CYNAN JONES
02 Expert
12
2
PADDY TWENTYMAN
02 Expert
11
3
JOHN STANLEY
02 Expert
11
4
GARY MCCOY
02 Expert
11
5
TONY COOK
02 Expert
11
6
JASON CONNER
02 Expert
11
7
LEWIS BARFOOT
02 Expert
11
8
DAVID ABRAHAM
02 Expert
11
9
RICHARD GOOD
02 Expert
11
10
EDWARD DYNE
02 Expert
11
11
JACK TALBOT
02 Expert
11
12
BARNEY THURGOOD
02 Expert
11
13
BRADLEY BARFOOT
02 Expert
11
14
JASON WRIGHT
02 Expert
11
15
TOM PAULLEY
02 Expert
11
16
GRANT LAMING
02 Expert
11
17
OLIVER RICHARDS
02 Expert
11
18
JOSHUA TERRY
02 Expert
11
19
MAX AGAR
02 Expert
11
20
ZAC KING
02 Expert
11
21
BRADLEY PERRETT
02 Expert
10
22
BEN CHAMLEY
02 Expert
10
1
STAN WATT
03 O40 Exp
11
2
DAN GROOM
03 O40 Exp
11
3
MICHAEL EL-AYOUBY
03 O40 Exp
11
4
SHANE TROTTER
03 O40 Exp
11
5
MICHAEL BROOKS
03 O40 Exp
11
6
STEVE HARDING
03 O40 Exp
11
7
KARL LANGFORD
03 O40 Exp
11
8
CEFYN GAMES
03 O40 Exp
11
9
GEOFF BRIGDEN
03 O40 Exp
11
10
JACK TWENTYMAN
03 O40 Exp
11
11
WAYNE PLAYER
03 O40 Exp
10
12
STEPHEN MULLINER
03 O40 Exp
10
13
MARK DAVIS
03 O40 Exp
10
1
RHYS TROTTER
04 Club A
11
2
MARCUS FELTHAM
04 Club A
11
3
CAMERON GAMES
04 Club A
11
4
STUART WILLIAMS
04 Club A
11
5
HARRY BILLET
04 Club A
11
6
CALLUM PICKERING RICHARD
04 Club A
11
7
EDWARD EAMES
04 Club A
11
8
ROSS MORRISON
04 Club A
10
9
WILLIAM WILSON
04 Club A
10
10
ARRON RICHARDS
04 Club A
10
11
ALEX MCGRATH
04 Club A
10
12
PETER COLMER
04 Club A
10
13
JOEL INGARFIELD
04 Club A
10
14
ADRIAN CLIGG
04 Club A
10
1
HARVEY WILKINSON
05 Club B
10
2
JOE BEAUMONT
05 Club B
10
3
GEORGE COUPER
05 Club B
10
4
DAN CLAPP
05 Club B
10
5
MATT HOLLAND
05 Club B
10
6
SHAUN ASH
05 Club B
10
7
MARCUS FELTHAM
05 Club B
10
8
EDWARD SARCHET
05 Club B
9
9
TED HARRISON
05 Club B
9
10
MATTHEW HANSFORD
05 Club B
9
11
JACK ELLIS
05 Club B
9
12
SAM CLOWES
05 Club B
9
13
SAM HARRISON
05 Club B
9
14
CHARLIE BLUNDELL
05 Club B
9
15
GEORGE ROOK
05 Club B
9
16
KARL PARTRIDGE
05 Club B
9
17
DOMINIC BLADES
05 Club B
9
18
CONNOR ANGUS
05 Club B
9
19
JOE CARPENTER
05 Club B
8
20
KEVIN GURR
05 Club B
8
21
OLIVER SMITH
05 Club B
8
22
SEAN GODLY
05 Club B
7
1
LUKE DEWEY
06 O40 Clu
10
2
JUSTIN CADMAN
06 O40 Clu
10
3
SIMON THOMAS
06 O40 Clu
10
4
DARREN CARTER
06 O40 Clu
10
5
MATT ALLEN
06 O40 Clu
10
6
STEPHEN TAYLOR
06 O40 Clu
10
7
STUART BOWERS
06 O40 Clu
10
8
MARTIN WOOD
06 O40 Clu
10
9
MARK PAUL
06 O40 Clu
10
10
JAMES GREEN
06 O40 Clu
10
11
NICHOLAS POTTOW
06 O40 Clu
10
12
ROB SMITH
06 O40 Clu
10
13
STEPHEN SCOTT
06 O40 Clu
9
14
MARK ANTHONY LEE
06 O40 Clu
9
15
PETE NIXEY
06 O40 Clu
9
16
PAUL OCONNEL
06 O40 Clu
9
17
GARRY OWENS
06 O40 Clu
9
18
GRAHAM EKE
06 O40 Clu
9
19
NEI L ROSS
06 O40 Clu
9
20
TIM THURGOOD
06 O40 Clu
9
21
JUSTIN BOUGH
06 O40 Clu
9
22
LEE BURROUGH
06 O40 Clu
9
23
COLIN PADDY
06 O40 Clu
9
24
ANTONY GUPPY
06 O40 Clu
9
25
DAVID MORRIS
06 O40 Clu
9
26
KEVIN BARRY
06 O40 Clu
9
27
SEAN RENVOIZE
06 O40 Clu
8
28
ANTHONY PICKFORD
06 O40 Clu
6
1
GLENN WOODLAND
07 O40 Spo
9
2
MARTYN HOYLE
07 O40 Spo
9
3
STUART AUGUST
07 O40 Spo
9
4
SIMON DAVID
07 O40 Spo
9
5
STEVEN CURTIS
07 O40 Spo
9
6
CHRIS DELLO
07 O40 Spo
9
7
ROB TAYLOR
07 O40 Spo
9
8
PAUL BOLWELL
07 O40 Spo
8
9
ANDREW THOMAS
07 O40 Spo
8
10
GARETH SMITH
07 O40 Spo
8
11
MARK JONES
07 O40 Spo
8
12
STEVEN VENABLES
07 O40 Spo
8
13
NICK WINDSOR
07 O40 Spo
8
14
PETER NASH
07 O40 Spo
8
15
MARK HARRISON
07 O40 Spo
8
16
RICHARD TETT
07 O40 Spo
7
17
SCOTT HOSKINS
07 O40 Spo
6
18
RIC JAMIESON
07 O40 Spo
5
1
FINLAY TAYLOR
08 Sportsm
10
2
JOSHUA BARTLETT
08 Sportsm
9
3
NATHAN BAXTER
08 Sportsm
9
4
ALFRED BUSBY
08 Sportsm
9
5
JAMES TULLEY
08 Sportsm
9
6
DOMINIC WARD
08 Sportsm
9
7
RYAN DUNNING
08 Sportsm
9
8
EDWARD LANGSTON
08 Sportsm
9
9
CHARLIE GREEN
08 Sportsm
9
10
NIALL MCCROW
08 Sportsm
9
11
MARC RAVEN
08 Sportsm
9
12
JACK LAMBLE
08 Sportsm
9
13
JAKE OUTRIM
08 Sportsm
8
14
CHARLIE ROOK
08 Sportsm
8
15
CHARLES WHITE
08 Sportsm
8
16
ANDREW WARD
08 Sportsm
8
17
ADAM SUGRUE
08 Sportsm
8
18
CHRISTINA PILLAR
08 Sportsm
8
19
LUCA DE BIABY
08 Sportsm
8
20
MATTHEW SOUTHWICK
08 Sportsm
8
21
MARK OSULLIVAN
08 Sportsm
8
22
FRANCIS SMITH
08 Sportsm
8
23
DANIEL HOLCOMBE
08 Sportsm
7
24
PAUL WHITMARSH
08 Sportsm
7
25
STU FRANCIS
08 Sportsm
7
26
FREDDIE CARTER
08 Sportsm
7
27
OWEN TIROKE
08 Sportsm
7
28
JOSEPH KNOTT
08 Sportsm
7
29
MATTHEW HEBDITCH
08 Sportsm
5
30
RYAN HUGHES
08 Sportsm
5
31
JACK MACEY
08 Sportsm
5
0000E0DDE7
MAVERICK SMITH
02 Expert
9
0000E0F12F
MARK CHADBOURNE
06 O40 Clu
9
0007578BFE
GRAHAM REID
06 O40 Clu
8
0000E0FEC0
JORDAN BRIGDEN
02 Expert
7
0000E0F38A
DANIEL GUY
01 Champio
7
0007805FD1
CHARLIE JOHN SAMPSON
05 Club B
6
0000E0E42B
SAM RICHARDS
02 Expert
6
0000E0EFAA
JOSEPH RYDER
08 Sportsm
6
0000E0E36B
ALEX WESTLAKE
04 Club A
5
0000E0E475
JUSTIN MATTHEWS
07 O40 Spo
4
0000E0F365
PATRICK BISHOP
05 Club B
4
0000E0EB7D
OLIVER CURTIS
08 Sportsm
3
0000E0DFD5
JAMES BROWN
06 O40 Clu
3
0000E0E19E
EWAN MCINTYRE
08 Sportsm
3
0000E0E304
CLIVE SMITH
05 Club B
3
0001A7173B
DANIEL WETHERALL
08 Sportsm
2
0000E0F10F
FINLY ABBOTT
05 Club B
2
0000E0E753
ADAM TIZARD
08 Sportsm
1
0000E0E235
DAVID SPANTON
05 Club B
1
0007806155
DANIEL BOWDEN
06 O40 Clu
1